A Romantic
Mountain Getaway
"Simply Glenwood's Best"
"Privacy, Solitude, Romance"
Comfortable Rooms, Modern Amenities, Delicious Food, Natural Beauty & More
Open April/May- October 31st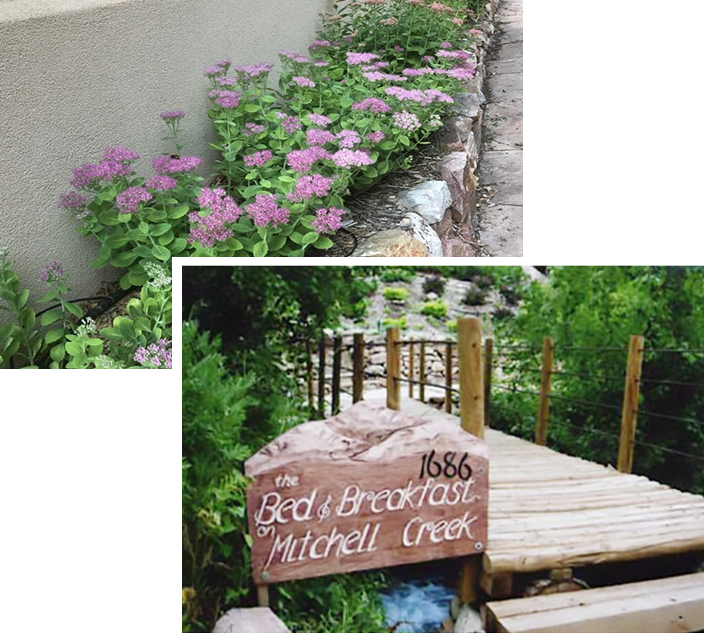 Mountains of things to do: MitchellCreekBB.com has been in business since 1994. We were the first B&B in Glenwood Springs. We are a "5 Star" B&B. We absolutely cater to our guests.
Our B&B has two very private, spacious, beautiful rooms. It's a fabulous place to spend your honeymoon or celebrate all your special occasions.
"Simply Glenwood's Best"
Privacy, Solitude, Romance
If you are in search of a comfortable suite with a private entrance, private bath, king size bed, large wall hung TV
(including netflix), we are your # 1 choice.
We are located off the beaten path away from the maddening crowds of downtown Glenwood but only 4 miles from the Hot Springs Pool

Mitchell Creek BnB is a great, relaxing place to call home while visiting Glenwood Springs. Stan, the host, has been at it for quite awhile and knows the art of hosting very well: lots of stories, cooks the best breakfast ever (clearly a 5* meal every morning) with plenty of food, and provides a spacious, comfortable bedroom (w/king bed). The bath towels and little touches in the room are top notch (includes a microwave and fridge). Even the en-suite bathroom has a heated floor!
The home is nestled in a beautiful alcove half-way up the mountain, is quiet and peaceful. It's right next to a hiking trail (Storm Mtn) and there are two landings w/fireplaces next to a roaring stream several feet outside the home. One of the nicest BnBs we've stayed at. Stan goes above and beyond by providing guests with superb dining recommendations (these establishments are truly outstanding) and some things to do while in the area. We highly recommend this BnB to anyone visiting Glenwood or the surrounding area.
-Gary M
Denver, Colorado 
Absolutely loved this B&B!!!
I wish I could give this B&B many more stars because this place is THAT good!! We were only here 1 night, but wished it could have been longer. When we arrived, we were greeted by Girlfriend (the owner's beautiful German Shepherd) and she is the sweetest and most well behaved dog. I loved petting her and getting her kisses. After this fabulous greeting, Stan showed us to our room (we arrived first so we actually got to pick our room) and then took time to give recommendations to his town. He recommended a restaurant based on what we wanted to eat was so delicious and we spent time at the hot springs where he exercises. The hot springs were very relaxing.
The B&B is in the best location in the mountains with beautiful scenery. There are deck areas where you can relax outside next to the creek. Wild life is all around so be on the lookout for elk, deer, bear, and anything else that might be out and about. The rooms are spacious and very comfortable. The gourmet breakfast was delicious. Stan had homemade raspberry butter that was fabulous and he willingly shared the recipe. 🙂
We would tell everyone to book this B&B when visiting Glenwood Springs.
- Dogluver315
Lakeland, Florida
If we could give this 10 or 15 stars we would. My husband and I wanted a nice little getaway from the Denver area. Happened upon the Mitchell Creek B & B and honestly booked because of the peaceful looking pictures. Stan was absolutely amazing! He showed us our room and then basically gave us his "tour" of the area...where to go, what to see, where to eat. His recommendations were fabulous. Our room was clean and perfect, with plenty of space. The property around the house is beautiful and has several different sitting areas to read or just relax by the creek. It was so nice after a morning of hiking to just sit outside with Girlfriend (Stan's very friendly and adorable dog) and listen to the creek. The breakfasts (which are included) were gourmet; Stan is a fabulous cook. And he has such wonderful stories of his well lived life. We will definitely return again.
-Lisa S
Parker, Colorado
Stan is such a lovely host. He greets you with his really adorable dog, sits you down, gives you amazing recommendations of food and activities around town, gives you a tour of the property, and sends you off to your room. The restaurant recommendations and food selection suggestions were spot on! My partner and I read by the creek each day, went on hikes near by, enjoyed the amazingly prepared breakfasts, and had everything we needed. Stan has a mini fridge in your room for snacks (which I would suggest bringing and enjoying by the creek). Stan is living the life I hope to have one day, he is a legend.
-Robyn P 
We had a wonderful stay at Mitchell Creek B&B. Stan was a wonderful host and gave many suggestions for dining and exploring. The location is perfect and we enjoyed hiking the Mitchell Creek trail right from the house. We spent a couple evenings having a cocktail by the creek and enjoying the sounds of nature. Girlfriend (Stan's dog) loved to keep us company - what a sweet dog! Glenwood Springs has much to offer and we loved our day at the hot springs. We took Stan's advice and took a road trip - Carbondale, Penny Hot Springs, Redstone and lunch at Slow Groovin' BBQ. And we can't say enough good things about Stan's breakfasts - YUM! Our room was comfortable and well-appointed. Highly recommend this B&B!
-Kris G 
Jasper, Georgia